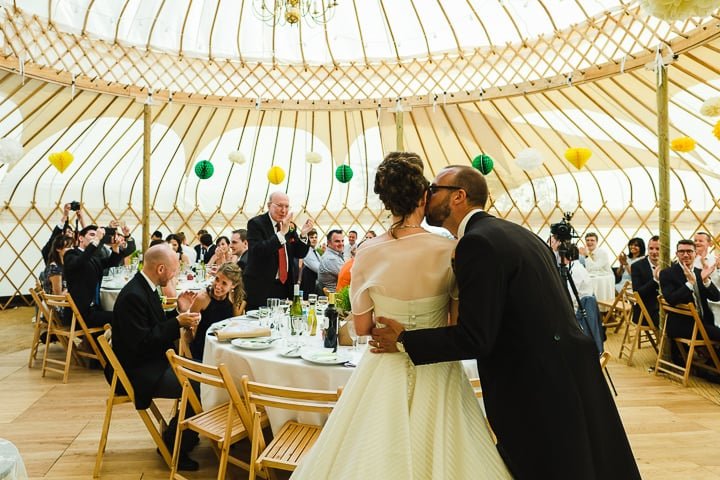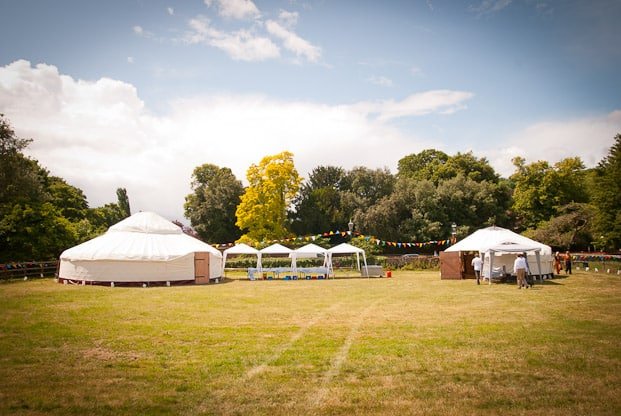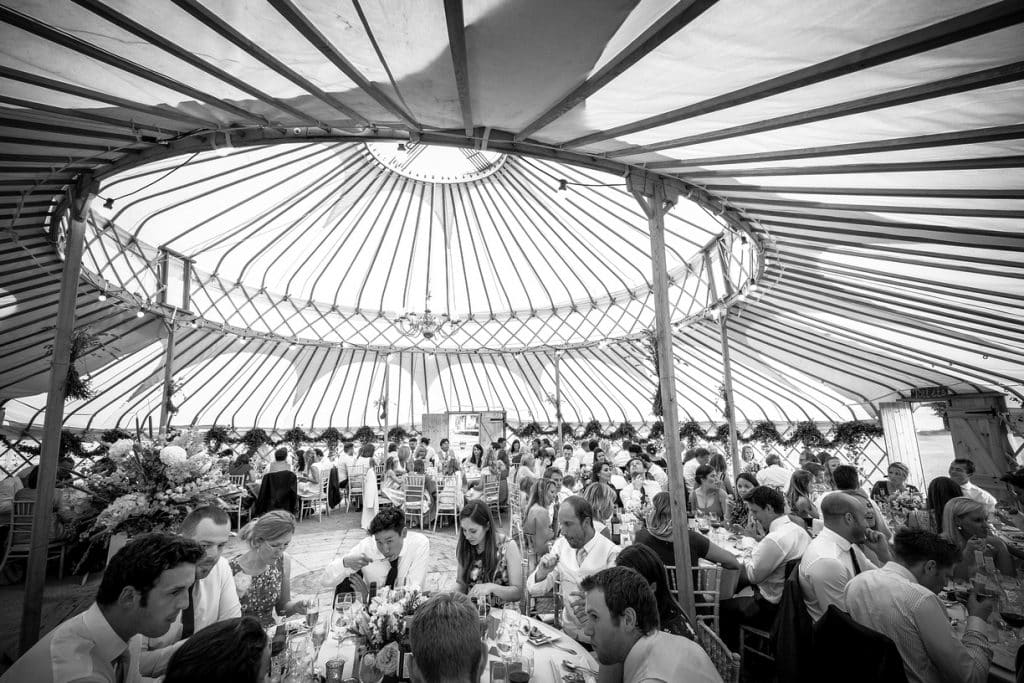 Yurt hire for weddings, corporate events, exhibitions, or even children's sleepovers.
Cheltenham Yurt Hire offers a charming and quaint, hand-made alternative to the traditional marquee. Our Kazakh bent-wood style yurts create the perfect atmosphere, with beautiful wooden framework and traditional canvas cover. They can be decorated simply to allow the woodwork to speak for itself.
We have a variety of yurts for hire of differing sizes and designs, which can be tailored to your event; ranging from 10ft (3m) in diameter which would suit for instance a personal massage space or kids party, up to a 69ft (21m) marquee alternative. The elongated banqueting yurt is a unique structure with 4 doors that can be coupled to other smaller yurts or catering tents.
We also have a number of bell tents for hire which can be cosied up with mattresses, duvets, rugs and lanterns.
Additional extras such as a reclaimed pine dance-floor, traditional wooden trestle tables and chairs, can really add the perfect touch to any event.
We can offer you a yurt from anywhere between three days for a one-off event, up to a whole season if you have a campsite and would like to offer a luxury camping experience.
You can take a look at our selection of yurts for hire below.

"Firstly, thanks again for everything. You are exceptionally lovely people and made our wedding a joy to plan. Congratulations on being brilliant at what you do. You made not just our wedding day but the whole week in the build up to the day a wonderful and exciting experience. The sky light over the yurt was pure genius – it was beautiful at twilight with the light coming in. One of our most romantic and memorable evenings was practising our first dance in the empty tent and having dinner in there. We felt privileged as most couples only have the one day but we had a few days to enjoy and let it all sink in.
We felt like you cared about our wedding and didn't see it as just another job. Having Suki to quickly email to reassure us and respond to my mundane questions every now and then was a brilliant thing to do – the biggest stress of the wedding with other suppliers is you are always made to feel you are not the priority – there's always another more imminent wedding that comes first and you feel a bit neglected and just a date in someone's busy diary."
Cathy and Billy – Peak District
"The Yurt was simply fantastic and the best way to spend the first night of our marriage.
After all who wants to leave their wedding early when all your friends are there enjoying the party!
A great service at a very reasonable cost – if that was your first season; top stuff."
Tim and Rosamund – Warwickshire
"Our daughter's wedding was in October 2010. She chose a wedding yurt for the reception because we wanted a celebration at home but a marquee seemed a little ordinary. The yurt was perfect. Its elegant structure and beautiful domed ceiling were a lovely backdrop for our meal and dancing.
The log burner kept us warm all evening, and the little yurt was a great little add-on for the children's entertainer. We had great service: relaxed, friendly but totally efficient. For anyone wanting to celebrate an event with extra ambience I think your yurt would be perfect."
Liz and Roger Kimberley – Leicestershire
"It really was brilliant to have the yurt, absolutely made the ceremony what we wanted!"
Lucy and Henje – Herefordshire
"The wedding was amazing (made especially so by the yurt) and married life is all good so far!"
Catherine and David – South Herefordshire
"Thank you again for bringing us the most lovely venue possible for our wedding!!!"
Daniel and Emma – Staffordshire